Domaća kompanija Gigatron jedan je od lidera na tržištu tehnike sa 68 prodavnica širom Srbije, već punih 20 godina.
Sertifikat "Fer sa potrošačem" koji dodeljuje Nacionalna organizacija potrošača Srbije – Savez potrošača Srbije, zaslužno je dospeo u ruke kompanije Gigatron.
Već 20 godina kompanija Gigatron je jedan od lidera na tržištu tehnike sa 68 prodavnica širom Srbije, a poslednjih godina, otišla je korak dalje zahvaljujući otvaranju Megastore koncepta prodavnica. Posle dve decenije rada na građenju poverenja ka kupcima, kompanija Gigatron je stekla sve uslove i prva u Srbiji dobila sertifikat "Fer sa potrošačem".
Sertifikat dobijaju one kompanije koje nude dodatnu vrednost, ne samo o oblasti zaštite potrošača, već ispunjavaju i odgovarajuće kriterijume u šest oblasti koje su: zaštita bezbednosti i zdravlja potrošača, primena poštene poslovne prakse u oglašavanju i zaključivanju ugovora, odnosi sa potrošačima i rešavanje žalbi, zaštita ličnih podataka i privatnosti potrošača, edukacija i informisanje potrošača i savesna i održiva potrošnja. A upravo je kompanija Gigatron prva kompanija koja je ispunjavanjem svih navedenih kriterijuma stekla sve uslove za dobijanje ovog veoma važnog sertifikata.
Sertifikat koji je ispred kompanije Gigatron primila izvršna direktorka Svetlana Gašić, uručio je potpredsednik Nacionalne organizacije potrošača Srbije, Zoran Nikolić. Tim povodom, gospodin Nikolić je istakao značaj sertifikata "Fer sa potrošačem", kako za potrošače, tako i za kompanije.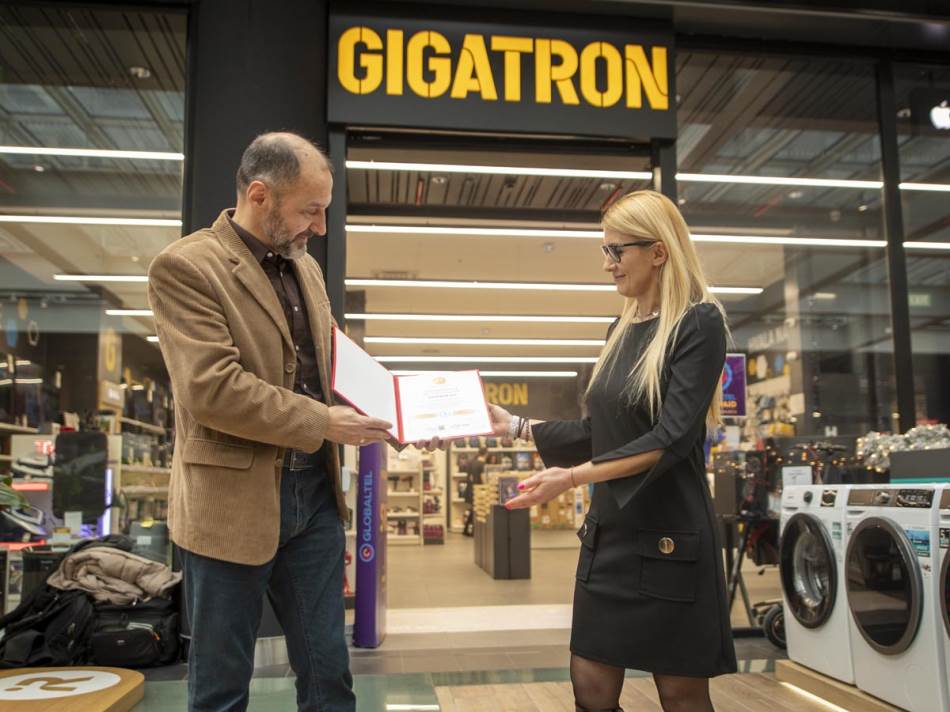 "Svaki znak treba da napravi razliku na tržištu, ali upravo se ovaj znak ("Fer sa potrošačem") trudi da to i uradi. On je pre svega regionalni, postoji u Severnoj Makedoniji, Srbiji i Crnoj Gori. Kompanija ovim znakom dobija ono što je najbitnije – poverenje potrošača", istakao je Zoran Nikolić, a zatim dodao šta ovaj sertifikat s druge strane omogućava potrošačima.
"Potrošači kada prepoznaju ovaj znak po trgovinama mogu da budu potpuno spokojni da je neko na kvalitetan način izvršio proveru poslovanja kompanija u šest oblasti i 26 kriterijuma. To se ne tiče samo prijema i rešavanja reklamacija, već i bezbednosti proizvoda, odakle se ta roba nabavlja, da li se radni uslovi odakle se ta roba nabavlja poštuju, zatim zaštita privatnosti, ličnih podataka, savesna održiva potrošnja, zaštita životne sredine itd.", naveo je Nikolić.
Sertifikat "Fer sa potrošačem" je oročen, traje dve godine, i kako je i sam potpredsednik Nacionalne organizacije potrošača Srbije, Zoran Nikolić naveo, potrošač kada vidi ovaj znak, može da bude siguran da ta kompanija radi i više nego što mora po zakonu. Kako i sami ističu u Gigatronu, kupac je za njih uvek u centru svih inovacija i nastojanja ka građenju još boljeg odnosa, a Predrag Brujić, trener koordinator u Gigatronu, objasnio je od kolike je važnosti ovaj sertifikat.
"Ovaj sertifikat je od izuzetnog značaja za sve nas zaposlene u Gigatronu, od menadžmenta, pa do prodavaca, jer je to zapravo potvrda da smo postali priznati i poznati kao jedan kvalitetan pružalac usluga u prodaji tehnike. Nama je najvažnije da su kupci zadovoljni našom uslugom i koju ćemo iz godine u godinu unapređivati i truditi se da slušamo njihove potrebe i zahteve", objasnio je koordinator Brujić.
"Poslednjih par godina kroz otvaranje Megastore objekte trudimo se da približimo kupcima kako izgleda kupovina u velikim svetskim, prestižnim prodavnicama. Međutim, ono što je mnogo važnije jesu inovacije u načinu prodaje i nivou pružanja kvalitetnih usluga kupcima. Inače kupac je kod nas u središtu svih tih interesovanja", istakao je on i dodao da se kompanija Gigatron trudi da svakog meseca iznenadi svoje kupce, kako kroz različite akcije, manifestacije, tako i uz pomoć posebnih ponuda.